June 23rd 2013

-

East Coast Multi-DF



Start Eight Ash Green First transmission 1:30, last 4:30

Site Tattingstone

Operator Tim M0BGE
Steve, John, Richard, Gary and Philip arrived in separate cars ready to do solo battles. I (Roy E) brought along Keith and Janice to find out just how easy Multi-DF is!

Far away two more beginners Tim F and son Robert were told to meet Timbo at the site ready for tuition at 2:00 pm.

I took Joker A in order to deliver Keith and Janice to Timbo for on site support, once he had Tim F and Rob searching.
I thought taking Keith and Janice to A would be simple but unfortunately my bearings were 'inconclusive', the early ones favouring the West side of he lake. We were about to park and run in the large green area

opposite

A when Gary drove out heading North ..... Hmmmm!

Tried to confirm where A was from south end of the bridge - again - inconclusive. Found John's car parked in the car park at the North end of the bridge but still some Minis appeared on one side, others and A on the other ??????

Eventually ended up in a small unmarked car park due East of A. There were several paths twisting and turning and carrying no map due to forecast of rain it was difficult to choose. Aborted a couple of runs down footpaths and was getting 'quite embarrassed' at leading my visitors such a dance. Eventually I decided to leave them with a promise that I would return when I knew something! At this stage I was intent on getting to A and was ignoring all other signals. Eventually came across Tim and Timbo but no Robert or DF set, strange but I had other worries - "Please find my visitors Timbo and look after them, they're 500m back along this path." On to A, it is 3:15 and clearly I am last - but no, 40 points!

Then the rain came down - not just wet - painful. Glasses now useless I continued in blind mode!



I think I can best describe the rest of my disorientated efforts as 'Blind and Bewildered of Brightlingsea' stumbles around the infinite sides of Alton Water. Unable to read my compass or tickets and with the twists and turns of the lake the only clues to direction were signals, and the number of times they seemed to come from across the water defied logic. Now looking at the aerial view it is all so obvious but in the 'steam' of the DF without a map ....
Surely the others were doing better?.....
....... Suffice it to say that the other competitors not under Timbo's supervision were also 'slightly' confused.

If you look at the map above and remember than John had parked by the bridge at the top and was working his way down, you will realise that my difficulties were mild in comparison.

Solo Richard S with his brand new set had been given an envelope to open but clearly is a 'true DFer' because he didn't. He ended up very close to us but then, sadly, caught his headphone cable and all went dead, finishing his afternoon.

Tim & Rob F. Had some initial tuition, father Tim decided to let Rob do the DFing , they actually found 4 triffids but due to a misunderstanding, thought they shouldn't take tickets while learning, by the time this was made clear their time was almost up.

Keith and Janice did remarkably well with just a little instruction from Timbo. Janice's set eventually filled up with water and died but fortunately Keith's kept leading them to the triffids.

At 3:55 pm I met Gary, he had only found M at that stage, by 4:30 he had found 5 and came 2nd - never give up!
Wonderfully lost,
wonderfully wet,
wonderfully fed.



Yes the third new MDF (East of Alton water) was a great day out - if you were a duck.


By some means at the start Gary predicted we would end in on/in Alton water, and after the second bearing/ approximate, it looked as if he was right.





In reality it did not take too long to run down the bearing to get to there, it was working out where to park and which side of the reservoir or peninsular to go to, that proved tricky for everyone. But we had a plan - Steve Stone and myself, as previous winners with -40 to start with, decided to give everyone else a much needed break by following each other and make all the wrong decisions.





So we went to the right side of the lake, ran towards the transmitters, but realising this would be too easy, decided to run back to our cars and drive off to explore the other side of the reservoir, whilst the sun was still shining.





We visited the lakeside over there, hoping to observe the other teams across the water, getting into a few stations.


Keith and Janice - this really is rather simple - what's all the fuss about?
Having given others a good head start, we then drove back round and ran onto the site just as the heavens opened. The rain came down in rods - or crossways in lashings, to ensure there was no hiding under trees to stay remotely dry.

It was good to see Roy suffering a similar fate just by 'B' station, which I followed him into. I had worked out by then Roy's plan had been to give Steve and myself the same joker, so leaving him to 'A'.

Pressed on soaked to try and find J further along the pathway, which I eventually did, followed close behind by new team Tim and Rob - making good use of a set that looked very familiar.

'I' had to be somewhere close by, but was not now heard, so after a couple of cycles, decided to go back for 'A' and post some points.

Again ran into the lake whilst following the line to A, but eventually found Keith and Janice still searching around the tree whilst Tim looked on, complaining about the weather but lucky to have a bike!






Left - Tim explains the technologically advanced ticket

receptacle

at Maxi A.
As time was late, said I would go and stand by 'J' to collect at the end of the contest. Arriving though heard Gary scuttling around on what must be the illusive 'I' , which I the found by tripping over the triffid, so ran back with some more points, to ensure knocking Steve down the placings.

Then the sun came out as if nothing had happened and we all crept back slowly past the speed traps to Lawford (Still on edge about whether I missed the one by the nursery - the post man will tell) and a delightful tea laid on by chief chef Tim, with help from Gary.

A wonderful end to a wet day out.

Congratulations to Roy, having finally designed something he can win. But who gets -40 points next time out? Welcome to the no hopers!

Philip



Right- John looking remarkably fit after his long ..... long ...... trek from the bridge.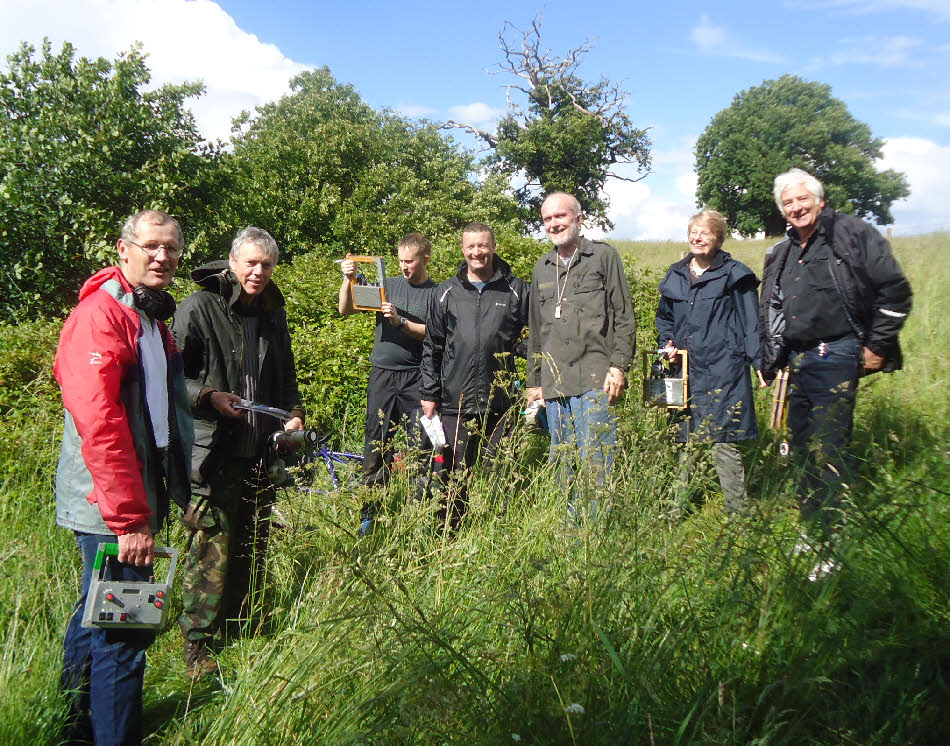 4:30 pm, the sun reappears and steaming bodies 'coagulate' by Maxi A.
Above Y & N refer to whether tickets were handed in at A before the machine gun.

On the previous event Steve found all 10 Txs with half an hour to spare but the lake sucked him in on this one. At tea he could still hold his head high being a -40 man, as did Philip.

I'm not sure how but now I will also be wearing a -40 tee shirt in Kent on Aug 18th.


The aim is of Multi-DF is to provide a serious challenge for experts while allowing beginners to be introduced to DF on the same event. A shame about Richard's broken set (nothing can be done about that) but otherwise all boxes ticked.

Timbo really 'went for it' spending a long morning setting up the ten Txs, then 3 hours of on site training THEN invited us all back to his where he cooked an excellent meal rounded off by of a variety sweets including strawberries and cream.

THEN

had to return to the site to collect a TX that had been forgotten. Having had 'thoughts of drowning and hanging' throughout the afternoon we all decided he is 'really quite a nice bloke' and can't wait for his next event! Thanks Tim.
P.S. Later a mysterious pile of soggy clothes were found decomposing at his house - yes, they belonged to B&BofB, thanks again Tim!

Well done everyone, another DF that we will talk about for quite a while. Thanks to John for making a long journey to support us and a special thanks to Steve for the same plus bringing along a purposely written program for processing all the results at future events.