Multi-DF Sunday March 20th 2016


Organiser - Gary M6GLP with 10 Txs to amuse us.

Location

- Alton Water, Tattingstone.



Pub -

The Carriers Arms, East Bergholt, CO7 6RA.
| | |
| --- | --- |
| Initial bearings said this was the way to F .... | .... and guides were available. |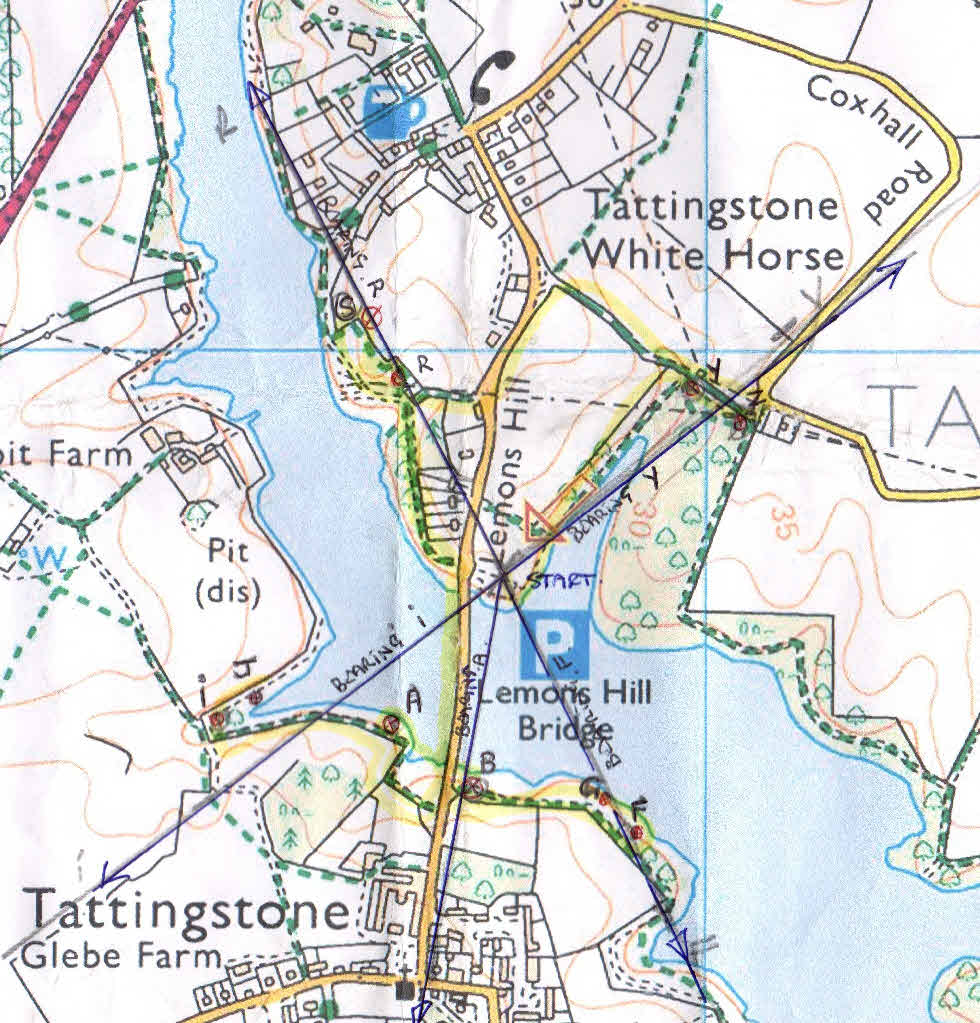 Phil wasn't jumping in the deep end and let the side down by taking this all way too seriously. See his report at the end.
| | |
| --- | --- |
| Near A but which way? .... | ... Sometimes it is best to forget the radio and use your tracking skills. |
| | |
| --- | --- |
| There it is ...40 points ....yes, !. | Thanks for the Coke Gary, I don't mind if I do. |
| | |
| --- | --- |
| Richard and Rosie were both in the area but I was the 40 point man!! | Unfortunately I peaked early and spent the rest of the afternoon looking for a toilet ... it's an age thing. Sadly I never found it so I will hand over the story to the experts who did ...... |
| | |
| --- | --- |
| | Bob was doing well. |

Left - Has Tim found a Triffid or just another poo bag?



Above - Living on the edge - Maxi A is close but which side?
| | | | | | | | | | | | | | | | |
| --- | --- | --- | --- | --- | --- | --- | --- | --- | --- | --- | --- | --- | --- | --- | --- |
| Position | Competitor | Handicap | Joker | A | B | F | G | I | J | R | S | Y | Z | Total | Percent |
| 1 | Rosie M | 0 | I | 32 | 26 | 40 | 32 | 80 | 40 | 20 | 17 | 20 | 20 | 327 | 100 |
| 2 | Philip C | 83 | Y | 23 | 17 | 32 | 26 | 26 | 26 | 40 | 32 | 80 | 32 | 251 | 76 |
| 3 | Colin M | 50 | Z | 15 | 23 | 26 | 20 | 23 | 23 | 26 | 40 | 23 | 52 | 221 | 67 |
| 4 | Roy E | 54 | I | 40 | 32 | 17 | 17 | 64 | 32 | 17 | 20 | 15 | 0 | 200 | 61 |
| 5 | Bob S | 0 | G | 20 | 40 | 0 | 80 | 20 | 17 | 0 | 0 | 0 | 0 | 177 | 54 |
| 6 | Steve S | 112 | Z | 13 | 15 | 20 | 23 | 15 | 20 | 23 | 26 | 26 | 80 | 149 | 45 |
| 7 | Tim P | 101 | F | 17 | 20 | 46 | 15 | 17 | 15 | 32 | 23 | 32 | 23 | 139 | 42 |
| 8 | Richard S | 0 | J | 26 | 0 | 15 | 13 | 13 | 26 | 0 | 0 | 17 | 17 | 127 | 38 |
Results


Good to see Bob well up the leader board, his best result
by far,
some reward for being one our most frequent Multi-Competitors. Thanks to those competing with significant handicaps, it really helps when we give those with less experience some chance of success.

And speaking of success...

327! How did Rosie get all those points? Is she flushed with success? Does she aspire to being a Heroine?
Gary suggested that planning would be required for this event. Roy kindly supplied me with a map as the one we had printed only covered one side of the (long) bridge over the reservoir. As the time came I decided to join Phil on the raised area behind the car park to take some initial sight bearings.
I plotted A to the south east, F to the south west and I, my joker, also to the south east. That was enough. I set off over the bridge in pursuit of Roy.
As I crossed the bridge I heard Z come up and noted that it was on the car park side. As I followed the footpath in towards A I caught up with Roy beating up the undergrowth in a likely spot. After stopping briefly to see him find a bag of dog poo I moved off down the footpath until the signal turned 90 degrees for A. I went in straight through the brambles. Roy appeared and took a slightly better route to pip me to the 40 points. Now follow the path round to I. The path went round nearly 180 degrees.
Roy was seen running off into the distance. Good, I thought, he must have a different Joker. Descended to I and found within a couple of minutes (40 Joker points). Now on to J. This I found more tricky. Got the TX but triffid took several more minutes. (another 40). Good start. Next back towards B. Quickly found the correct clearing but triffid not so easy. Now towards F. Got there quickly but could not spot triffid so switched to G. Got uncomfortably close to some fishermen, apologised and tried to briefly explain before taking ticket and heading back to F. Phil had joined me. Searched the same area as before. Was convinced where the TX was and kicked a pile of leaves. No luck, triffid was sitting behind a tree. I just spotted it before Phil (amazingly another 40 points).





Needed to cross back to the other bank, where I had decided the remaining TX's were located, however, I diverted via A to bag my good points so far. As I crossed the bridge I confirmed S was on the north west side. As I reached the other side Z came up and was quite strong up the north east footpath. I decided to tackle this side first. Y then came up and was quite strong. I diverted a short way off the path, and spotted the TX lying in the open on the next transmission, but where was the pesky triffid – blending in with the grass as the paint was coming off this one. As I re-joined the path Richard spotted me emerging from the bushes. Z came up, but seemed to be behind the fence, found a parallel path in a gully, with lots of cover. This is where I would put it I thought. I went down the footpath looking for triffids amongst the stumps. The signal came back on briefly and took me back up the hill. I went up on to the bank and started scanning for triffids. Amazingly there was a dumped toilet, and what was that protruding from the U-bend ? I took a ticket and left muttering that was a crap place to hide a triffid. Richard spotted me and quickly cashed in.





After taking bearings on R and S, I decided to take the footpath across the field and out to the road as a shortcut. When I got close to S, I met Roy on the footpath, trying to fight his way through thick bramble and muttering that he had been there for 30 minutes. I quickly skirted round the bushes from the back and was just beaten by Roy, who had come the hard way.
Where would have I put R? Over the back in the furthest possible place. I made my way over on a hunch as Roy had disappeared off. After a few minutes I spotted some trampled nettles. A signal came on and confirmed I was in the right spot. Saw some Camo over the TX, but couldn't spot the Triffid until I backed away and ducked down. Job done.
Back over the bridge once more to post the remaining tickets. I waved to all those in the car park, who had obviously finished ages ago. I hoped that Colin would bring the car over to pick me up. As I walked out I met him and said I had just posted my tickets. He suddenly realised that he hadn't posted any of his. Well where are they? In the car in my other trousers he replied before realising he had them with him. A close shave he could have been pointless!!
I guess I was lucky in finding them in a different order to most but I did have to cross the bridge twice more than those with jokers on the car park side.
Great event to start the season, nice and easy. No mud. Nice terrain. Good rendezvous close to the A12. Many thanks to Gary for organising it all.
Left - After all the 'Should triffids be renamed loopins' and similar jokes, getting a serious picture was a challenge, come on people, calm down!



That's better. Well done Rosie, now a double Multi-Star winner.
It's the red joker bag from now on! See here ...

OK Philip, so you used a map and came second but did you spot the footprint near A ..... did I mention my 40?


What - bearings & maps on a Multi ?

We had been told by Gary before the start it would be best have a plan for the event, not wishing to run all the way round Alton reservoir, I thought I should take heed.

Then - I came over all 'Ferrer'. Map board, compass, ruler, protractor - everything. Fortunately I found an old BBQ in a bramble bush on the little mound looking over the car park on which to set up all my equipment, as I could not secure it all round my neck.

Managed in one cycle to work through the five Mini transmissions, taking and plotting bearings straight onto my A4 map.



We were surrounded by transmitters and it was clear a plan of attack was going to be needed. I had thought having Y as joker was not going to help – but it did, it was on the same side of the reservoir as the start and A and the finish were on the other side. So the plan was clear – start with the joker, then R & S before running across the bridge for the rest and A.






Y was not far off and I thought I had it all to myself when Tim appeared out of nowhere just after I had taken the 40 points. Z was further up the footpath where I found Steve lurking, then Colin closer to the transmitter. Beat him to the triffid hiding inside the outlet of an old white china toilet dumped there – thanks Gary.


My little map then helped me find a short cut across Lemons Hill and the track back down to the reservoir where I found R with some more decent points. I again had a sense I was on my own – then Colin popped out of nowhere and beat me to S.

A decent run back round to the bridge, stopping only to pose for photos for Gary and to shake him warmly with my ticket retrieving hand, fresh from the toilet!
Running over the bridge 'A' came on and was well off my first bearing, on the western side of the main road – so easy decision to go for F & G next. G was being watched over by a crowd of anglers, F a more tricky run around in the company of Rosy.
Assuming B was on the same side of the road as A, I cross over found 'A' by the waters edge but then had to cross back over again to B, which Tim was just exiting.

The rush was then on for the last two, passing Bob and meeting up with Colin again, just beating him to both 'I' and 'J', just a bit further round the bay. Then it was back to Gary at A to post the tickets by about 3.00 pm.
No last minute rush for me thankfully. Roy – not so, found him overshooting 'Y' just as I arrived at 3.45 to stand by to collect it. Suggested he might drive over the bridge by car to get back to 'A' before getting himself machine gunned. .....

Great event by Gary and good win by Rosy.



Now let's talk Heroes:


There were lots of discards with only Gary choosing to do the 'manly thing'. Clearly his bravado is frightening off the competition.
Caroline pointed out that we may need a new trophy soon, with all the men wimping out it may take a woman to show the way. I think that might take a Judo Black Belter - so I reckon we are pretty safe guys ......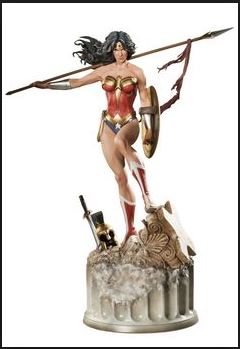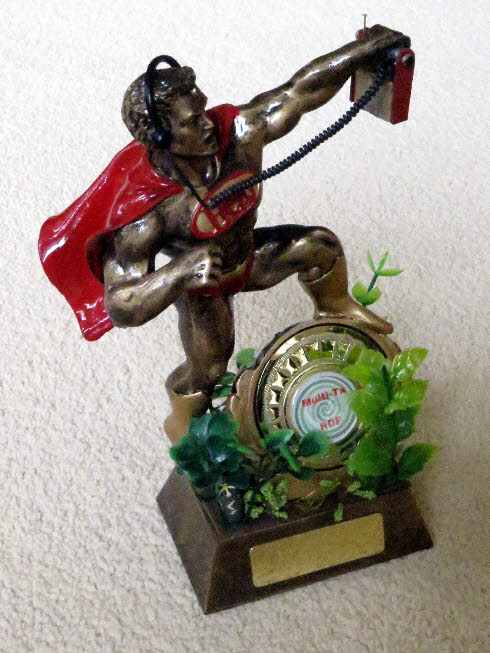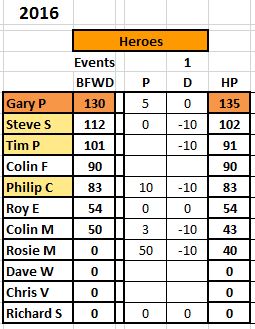 ... but just in case I have placed an order for a Heroine Trophy.

Who will be the first couple to have these on their mantelpiece? I bet the Jones family couldn't match that!

Next Multi-Event is on May 15th. Richard is in charge, more details nearer the time, keep your eye on the noticeboard.