| | |
| --- | --- |
| Triffid burying supplies? | Excellent choice of wood by Richard, loads of cover but mostly gentle on the skin. He had been over on Saturday and put out all the Txs. Sunday morning at 12:00 they all woke up for a test transmission - all heard except C. On inspection something had chewed through the aerial, a quick knot and twist and all was well. |
| | | | | | | | | | | | | | | | | |
| --- | --- | --- | --- | --- | --- | --- | --- | --- | --- | --- | --- | --- | --- | --- | --- | --- |
| Pos | Competitor | Hcap | Joker | A | B | C | F | G | H | K | L | M | 1 | Score | Raw % | Final Total |
| 1 | Roy E | 86 | K | 23 | 23 | 32 | 15 | 23 | 26 | 64 | 32 | 32 | 23 | 293 | 93 | 207 |
| 2 | Colin M | 57 | G | 13 | 15 | 13 | 26 | 64 | 32 | 20 | 23 | 20 | 26 | 252 | 80 | 195 |
| 3 | Philip C | 105 | A | 80 | 32 | 40 | 17 | 15 | 17 | 23 | 20 | 23 | 32 | 299 | 95 | 194 |
| 4 | Colin F | 96 | B | 26 | 80 | 17 | 20 | 17 | 20 | 26 | 26 | 40 | 17 | 289 | 92 | 193 |
| 5 | Gary P | 120 | L | 20 | 17 | 23 | 23 | 20 | 23 | 40 | 80 | 26 | 40 | 312 | 100 | 192 |
| 6 | Tim P | 94 | G | 17 | 20 | 26 | 32 | 80 | 15 | 17 | 17 | 17 | 15 | 256 | 82 | 162 |
| 7 | Steve S | 64 | F | 15 | 13 | 15 | 80 | 26 | 40 | 15 | 0 | 0 | 20 | 224 | 71 | 160 |
| 8 | Bob S | 0 | A | 64 | 26 | 20 | 0 | 0 | 0 | 0 | 0 | 15 | 0 | 125 | 40 | 125 |
| | | | | | | | | | | | | |
| --- | --- | --- | --- | --- | --- | --- | --- | --- | --- | --- | --- | --- |
| Competitor | Joker | A | B | C | F | G | H | K | L | M | 1 | Validation |
| Roy E | K | 14:07:06 | 14:26:28 | 14:19:49 | 15:14:55 | 14:52:56 | 15:02:29 | 13:48:06 | 13:59:57 | 13:57:37 | 14:33:54 | 15:40:07 |
| Colin M | G | 15:08:47 | 15:16:16 | 15:51:22 | 13:59:31 | 13:49:13 | 14:19:41 | 15:04:21 | 14:54:31 | 14:44:19 | 14:33:48 | 15:56:01 |
| Philip C | A | 13:43:26 | 13:50:54 | 14:08:56 | 15:14:45 | 15:22:57 | 15:31:15 | 14:55:21 | 15:03:56 | 14:44:12 | 14:33:45 | 15:42:00 |
| Colin F | B | 14:02:40 | 13:46:20 | 15:00:05 | 15:12:52 | 15:21:25 | 15:31:05 | 14:28:52 | 14:14:16 | 13:57:12 | 14:43:04 | 15:48:32 |
| Gary P | L | 14:19:01 | 14:29:44 | 14:38:29 | 14:50:13 | 14:59:26 | 15:12:16 | 13:47:58 | 13:54:02 | 14:00:05 | 14:07:06 | 15:34:39 |
| Tim P | G | 14:36:45 | 14:29:28 | 14:23:06 | 13:55:00 | 13:48:50 | 15:42:28 | 15:05:59 | 15:14:57 | 15:17:21 | 14:43:13 | 15:45:12 |
| Steve S | F | 14:50:40 | 15:16:20 | 15:06:56 | 13:54:23 | 14:03:10 | 14:19:37 | 15:26:41 | | | 14:40:34 | 15:55:40 |
| Bob S | A | 14:02:26 | 14:20:08 | 14:49:28 | | | | | | 15:27:58 | | 15:40:23 |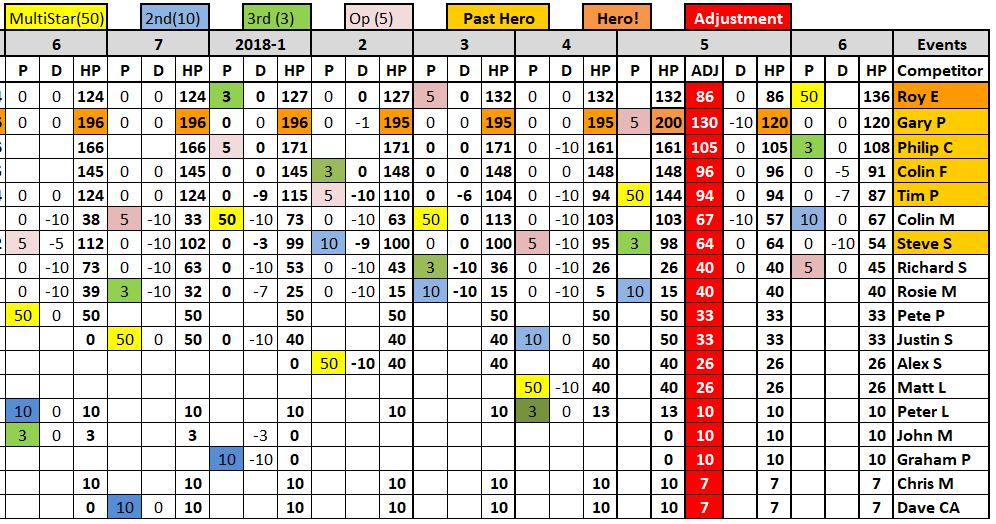 | | |
| --- | --- |
| Results - The call to order! | |
| | |
| --- | --- |
| | |
Less than Zero to Hero!


Last month

I thought I was doing really well. Three quick 40s and all ten found, all I had to do was get back to my Joker before 16:00 - then having found the clump of blackthorn with 5 mins to spare, disaster glasses lost, panic, blood, machine gun = - 52 points!




In contrast, this event did not start well. Easy Joker K, got to it in good time but just couldn't spot the Triffid - soon Gary was there and ... bother only 64 instead of 80. Which of L and M would Gary go for next , L, so it's M for me. Bother again, as I approached there was Colin F, so only another 32. Back to L, yep Gary's been in, another 32. OK, clearly today is not my day, calm down and enjoy the walk with the gentle twittering of Triffids in the background. A is close, but only 23, never mind, the sun is shining and even the Triffid clearly thinks it is still spring perched in its nest! Headed for B next but Bob was there so decided to go for C first to see if that would yield decent points. Met Tim at a junction in the paths and we exchanged tales of woe while waiting for C to give its very brief transmission. Tim dashed off and I followed with slightly less dash. Fortunately C went off just before he got to it and I had a sharp null. Followed the line and spotted the Tx aerial. Tim was dancing all around it and I spent an eternity trying to place myself in his line of sight to it. Where was the Triffid .. . ..

.. .. .. at last ! Another 32, not bad and beating Tim is as good as win, thus I continued on with raised spirits. Back to B, for 23. 14:26, need to go for the Ghost (1) before that goes off at 15:00.
| | |
| --- | --- |
| | The map showed two paths but the signal was strong straight on through seriously thick undergrowth, a man with a jungle hat and a sharpened Dibber wasn't going to wimp out to a path, even if it would save him ten minutes! This wasn't all bad because when I did get there Colin M and Philip had spent some time flattening the undergrowth around the Tx and Philip revealed it as I completed my last stride. Only 23 but time saved. So F G H, the route involved rather more contours than us Essex types are used to. I reasoned that F & G would offer few points by this time but there may be decent ones left at H before it got easy at 15:00. However, my meandering route took me close to G and I grabbed a reasonable 23. On to H spotting the Tx just before it started its long transmissions, as usual a few more frustrating minutes trying to spot Richard's well hidden Triffid for 26. Almost an hour left and only F to find, should be a doddle. However, as the map shows there were streams on the way but by this time I had gone into 'stroll along without looking at the map mode'. I wasn't going to get my feet wet at this stage so my route resembled badly served spaghetti. Once again though this wasn't all bad because as I approached, Philip was doing his 'Triffid revealing war dance' so for a cost of just two points my last Triffid was dibbed for 15 at 15:15 was this an omen? Was pleased to have the time to show those contours some respect on the way back to my Joker K. |
With not a single 40 I had no thought of winning the Multi-Star let alone becoming the Hero, so the results were a very pleasant surprise! It would have been nice to have done it without the aid of the handicapping system but age does bring with it some sense of realism and gratitude. Well done to Gary for being the 100% man yet again - I suspect I will only be the Hero for a month, so I intend to make the most of it!!
Thanks to Richard for all his his efforts and the touches of humour, the nesting Triffid, Fork 'andles, Vera's invitation, Dibbing Doughnuts and arranging for me to pose with the Queen, that will stay in my memory a for a long time.
Now why did I come into this room ........
........ ?
Ah yes, to tell you the next event will be on October 7th in Whitley Forest, Kent. Colin F will be hiding the Triffids. Hope to see you all there.

Mulit-Noticeboard