Multi-Tx DF Sunday 19-08-2018

Organiser

Gary P

Location Tylers Common, South of M25 Brentwood Junction.


Pub

The Black Horse, 420 Ongar Rd, Pilgrims Hatch, Brentwood CM15 9JN Map


| | |
| --- | --- |
| | Winning profile? |
| | |
| --- | --- |
| Tx Locations | Paths look obvious, however bearings rarely followed them, other routes were a challenge! |
Results
| | | | | | | | | | | | | | | | | |
| --- | --- | --- | --- | --- | --- | --- | --- | --- | --- | --- | --- | --- | --- | --- | --- | --- |
| Pos | Competitor | Hcap | Joker | A | B | C | F | G | H | K | L | M | 1 | Score | Raw % | Final Total |
| 1 | Tim P | 94 | K | 23 | 23 | 32 | 26 | 23 | 32 | 80 | 26 | 40 | 32 | 337 | 100 | 243 |
| 2 | Rosie M | 5 | L | 17 | 20 | 0 | 32 | 26 | 26 | 32 | 64 | 20 | 0 | 237 | 70 | 232 |
| 3 | Steve S | 95 | F | 20 | 0 | 0 | 80 | 32 | 40 | 20 | 20 | 26 | 40 | 278 | 82 | 183 |
| 4 | Colin M | 103 | B | 32 | 64 | 0 | 23 | 20 | 23 | 23 | 23 | 23 | 0 | 231 | 68 | 128 |
| 5 | Philip C | 161 | L | 26 | 26 | 40 | 0 | 0 | 0 | 26 | 80 | 32 | 0 | 230 | 68 | 69 |
| 6 | Colin F | 148 | A | 80 | 40 | 26 | 0 | 0 | 0 | 17 | 17 | 0 | 0 | 180 | 53 | 32 |
| 7 | Roy E | 132 | G | 0 | 0 | 0 | 0 | 80 | 0 | 0 | 0 | 0 | 0 | 80 | 23 | -52 |
| | | | | | | | | | | | | |
| --- | --- | --- | --- | --- | --- | --- | --- | --- | --- | --- | --- | --- |
| Competitor | Joker | A | B | C | F | G | H | K | L | M | 1 | Validation |
| Tim P | K | 15:01:31 | 15:22:07 | 15:13:47 | 14:29:25 | 14:37:16 | 14:47:04 | 13:45:06 | 14:01:35 | 13:53:50 | 14:20:00 | 15:38:47 |
| Rosie M | L | 15:25:49 | 15:22:18 | | 14:24:02 | 14:36:52 | 14:49:57 | 14:04:25 | 13:50:08 | 15:50:12 | | 15:55:05 |
| Steve S | F | 15:21:57 | | | 13:44:02 | 14:09:27 | 13:59:36 | 15:10:15 | 15:05:08 | 14:44:08 | 14:17:00 | 15:52:56 |
| Colin M | B | 14:00:03 | 13:50:01 | | 15:12:59 | 15:19:24 | 15:25:48 | 14:30:48 | 14:40:30 | 14:54:28 | | 15:49:34 |
| Philip C | L | 14:20:02 | 14:31:16 | 15:07:06 | | | | 14:09:47 | 13:47:43 | 13:54:01 | | 15:46:24 |
| Colin F | A | 13:41:00 | 13:48:00 | 15:30:00 | | | | 15:54:00 | 15:46:00 | | | 15:59:59 |
| Roy E | G | 15:27:16 | 15:19:35 | 15:42:42 | 13:54:43 | 13:42:55 | 14:05:52 | 15:04:33 | 14:42:18 | 14:54:13 | 14:14:00 | 13:42:55 |
| | |
| --- | --- |
| First | Second |

Third and first validated ghost find.

First at ghost sympathy prize -

(spice antidote)
So how did young Tim do it?


What a brilliant site !! Plenty of car park space and a start location giving good views over the area and as far as London. It looked completely different to the 2D aerial views afforded by google.

My tactics do not involve taking bearings at the start, just visually noting the direction in which the three main bearings originate. Today A was in the direction of trees on the far hillside, F back towards the car park, and K towards a wood adjacent to the M25. Plan of action : KLM, Ghost, ABC, FGH.

With K as joker, I set off as fast as my dodgy ankle would allow as soon as sequence 2 started. Unfortunately I overshot K and entered the wood expecting K to be in there. It took me two more goes to discover the easy way in from the field. Still, 40 points. Having seen Phil and Rosie both heading this way, I guessed they were both going to L, so I decided to head for M, over the M25, just behind Phil, but for once I found it before him !!



Back for a quick 26 at L whose triffid was poking out from its hide.

Having completed one set of three, it was ghosthunting time. Unfortunately the direct route to it was barred by an extensive row of brambles, and my choice of circumnavigating them led to a dead end. (I wish now I had realised that I was really close to ABC !!) So back round the other way only to find Roy and then Steve had been in and found the triffid dead. Ghost was busted (!!) and then now A or F. I thought I was near A but F was much stronger so a change of plan ensued. FGH next. Near F I found Rosie in despair of a dead receiver, and the multitude of knobs and switches upon it. F was quick, then off to G closely followed by aforementioned lass. Not put off by two blackberry pickers in close proximity, she dared the blackthorn first to get the lion's share of the points.
H was a bit tricky due to the windy paths leading to it. Met Rosie again on the way out.

This left ABC to be found right across the far fields and up the hill. I was kicking myself for not going straight there from KLM. Still I was able to get a good rough idea of where A was as I went. Tx A was fairly straightforward to find. Having caught a snip of B/C transmissions earlier I knew one was across the M25 again but I had forgotten which one.


On waiting on the bridge for a transmission, I was aided by Phil who was coming towards me complaining that he had found "it" very difficult. So I assumed he had been at red C, and went towards its general direction. The signal came on at a very convenient moment, and I found the aerial quite easily. After a couple of minutes, its triffid was spotted behind a clump of grass. Blackthorn spears made it a little difficult to reach. So back over the bridge towards B, and after some confusion caused by the end of a power line, I found B just before Rosie who had looked down rather than up.



Nice to win one of the new glass trophies for once. Bit surprising that Roy was the only other competitor to find 10 (well done !), but he honourably fell on his own sword to allow himself to support all the others in the points table.




Thanks to Gary for a challenging but do-able event !



Tim/M0BGE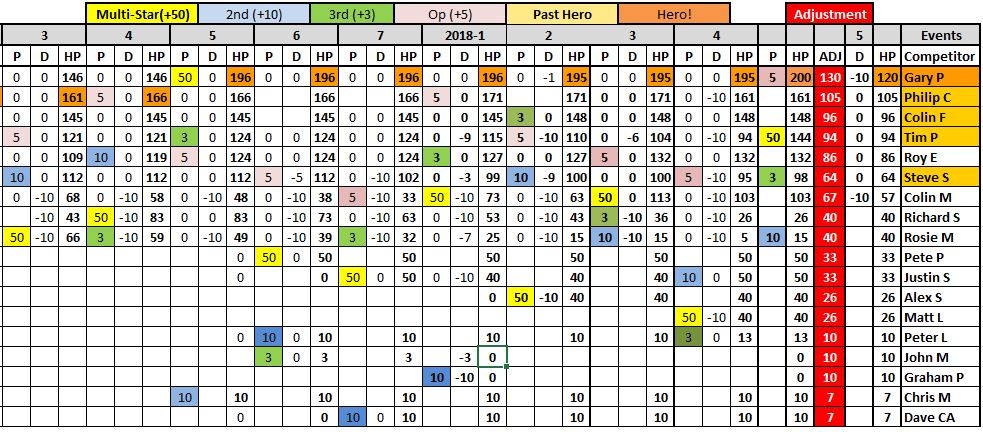 Gary achieving a score of 200 HPs (congratulations)

triggered a scaling of the table.

In future 150 will trigger adjustments, details are at the bottom of here.
Note - I thought my spreadsheet/tablet was playing up in the pub, no, Tim's winning 50 points followed by the adjustment by coincidence brought him back to exactly the same HP score of 94!



Please note

that above some 2nd and 3rd places are missing because the people involved had discarded points down to zero and thus were removed from the spreadsheet. In future, to appear on the 'Hero web page' you must retain at least 1 point above your 'experience level' minimum, this allows people to decide whether they wish to appear or not. The level minimums may be found here. Those who are on the minimum, perhaps as a result of a scaling adjustment, may request a complimentary 1 HP so they remain on the Hero spreadsheet and webpage. The current handicap value and experience level for each competitor is retained in the competitor file of the event software. History of all events is here giving date, winner and link to report containing related 'Hero table'.



Thanks for an excellent event Gary

, with only the winner (Tim) validating all ten, perfect on the difficulty front.



Next event

September 16th, Richard S will plant Triffids. Watch the noticeboard for details.