Report by Steve:



Thank you all for coming to support the event, especially to Alan, Graham and Justin. Ashridge is a fantastic area for multi use, although the southern part is a bit more open. This meant I had to use distance to make it reasonably hard. There are a multitude of paths, so there should have been no need to go cross country for large distances.

I put 9 out on Friday and just left the ghost and the A replacement until the morning.

A, B, and C should have been the easiest group, although C was in an awkward spot unless you found the approach path. Seems a lot of people spent some time on A, can't think of any reason why that should have been. Also, some people seemed to think it was further away, even though the signal at the start was very strong. C was also very strong because I was using A as C which has much more aerial wire, and even though I tried to keep the vertical short it was still radiating to much.

K, L, and M were in a straight line, nothing to difficult. Maybe someone thought M might be in the rhododendrons and wasted a bit of time.

F, G, and H were almost in a straight line. Again, nothing to difficult apart from needing to clamber over the logs at H.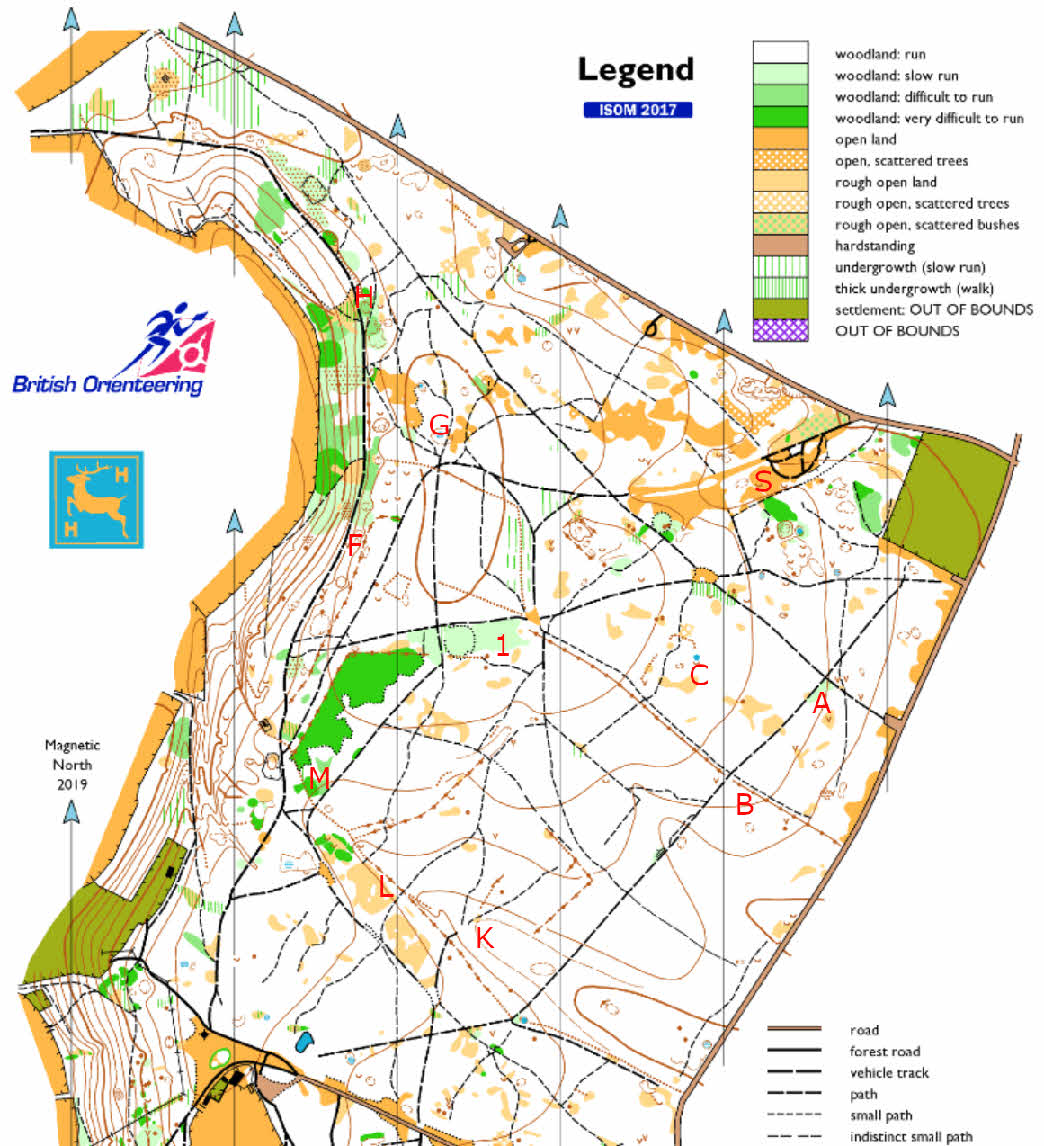 Apologies that F and K were a bit weak at the start.

On my set G was much stronger than F. I've always had trouble with F on my events, it always seems weak.

In hindsight I should have moved the start a bit to gain some height.

| | |
| --- | --- |
| Triffied F | Hunting the Ghost |
After the start walked up to the main track between the north and south west groups and fully expected to see a few people, however waited around for a while, but nobody appeared. Wandered back towards the ghost and suddenly Rosie popped out of the woods, sorry the pic is a bit blurry – assume Rosie was speeding!

The eagle eyed amongst you may notice that Alan's time at the ghost is 38 seconds over time. I've chosen to ignore this, as he and Graham made the effort to get there and weren't aware that the ghost stopped at 3pm. If I'd disqualified that score it would have moved Roy and Colin F up one place, but otherwise no real consequence.

Well done to Justin for yet another win, and to Tim for the best gross score.

Results
| | | | | | | | | | | | | | | | | |
| --- | --- | --- | --- | --- | --- | --- | --- | --- | --- | --- | --- | --- | --- | --- | --- | --- |
| Pos | Competitor | Hcap | Joker | A | B | C | F | G | H | K | L | M | 1 | Score | Raw % | Final Total |
| 1 | Justin S | 27 | A | 80 | 17 | 32 | 26 | 23 | 23 | 20 | 15 | 17 | 32 | 285 | 82 | 258 |
| 2 | Tim P | 107 | L | 20 | 23 | 17 | 32 | 26 | 26 | 40 | 80 | 40 | 40 | 344 | 100 | 237 |
| 3 | Gary P | 99 | B | 23 | 80 | 40 | 20 | 17 | 20 | 26 | 26 | 32 | 20 | 304 | 88 | 205 |
| 4 | Alan S | 0 | * | 26 | 64 | 23 | 15 | 13 | 17 | 0 | 0 | 0 | 17 | 175 | 50 | 175 |
| 5 | Roy E | 89 | F | 0 | 0 | 15 | 80 | 32 | 40 | 23 | 23 | 23 | 26 | 262 | 76 | 173 |
| 6 | Colin F | 84 | G | 17 | 20 | 20 | 23 | 80 | 32 | 15 | 17 | 26 | 0 | 250 | 72 | 166 |
| 7 | Colin M | 60 | A | 64 | 26 | 26 | 13 | 15 | 0 | 17 | 20 | 20 | 0 | 201 | 58 | 141 |
| 8 | Rosie M | 40 | K | 0 | 15 | 0 | 17 | 20 | 0 | 64 | 32 | 0 | 23 | 171 | 49 | 131 |




Times

(For info only)


| | | | | | | | | | | | | |
| --- | --- | --- | --- | --- | --- | --- | --- | --- | --- | --- | --- | --- |
| Competitor | Joker | A | B | C | F | G | H | K | L | M | 1 | Validation |
| Justin S | A | 13:51:32 | 15:28:34 | 14:11:22 | 14:24:46 | 14:32:52 | 14:43:04 | 15:04:12 | 15:10:51 | 15:17:13 | 14:19:29 | 15:34:55 |
| Tim P | L | 15:16:28 | 15:20:55 | 15:31:20 | 14:24:01 | 14:32:41 | 14:42:51 | 13:54:42 | 13:49:46 | 14:10:06 | 14:19:23 | 15:41:51 |
| Gary P | B | 14:02:34 | 13:41:44 | 13:55:42 | 14:47:28 | 14:58:57 | 15:14:07 | 14:10:12 | 14:16:12 | 14:29:58 | 14:36:14 | 15:38:48 |
| Alan S | * | 13:51:54 | 14:11:08 | 14:43:33 | 15:17:02 | 15:24:37 | 15:42:27 | | | | 15:00:38 | 16:00:00 |
| Roy E | F | | | 15:31:41 | 13:46:35 | 13:58:02 | 14:13:25 | 14:45:01 | 14:53:30 | 15:05:04 | 14:28:29 | 15:48:29 |
| Colin F | G | 15:36:43 | 15:28:28 | 15:15:50 | 14:33:35 | 13:47:56 | 14:27:01 | 15:04:51 | 14:57:11 | 14:47:48 | | 15:52:48 |
| Colin M | A | 13:51:37 | 14:11:24 | 14:41:29 | 15:36:50 | 15:23:41 | | 15:04:17 | 14:53:46 | 15:11:00 | | 15:52:45 |
| Rosie M | K | | 15:35:56 | | 14:59:29 | 14:47:30 | | 13:54:47 | 14:15:40 | | 14:28:36 | 15:51:16 |