Colchester Multi DF 01/07/12




'Evil Joker'

meets the 'Best Man'









Yes we have been here

before

, I decided it was just so good that it was a shame only 5 people came last time. Let's give it another go.




You wouldn't believe the problems this gate caused me. If it is opened by a volunteer it will probably be shut at 4:00pm and if you get locked in you phone one of 4 numbers to be let out. Sounds fine but it took me two days to get through - so glad my car was on the outside! Eventually after several calls and a council meeting it was decided that the gate would left closed so that there would be no trapped DFers' cars!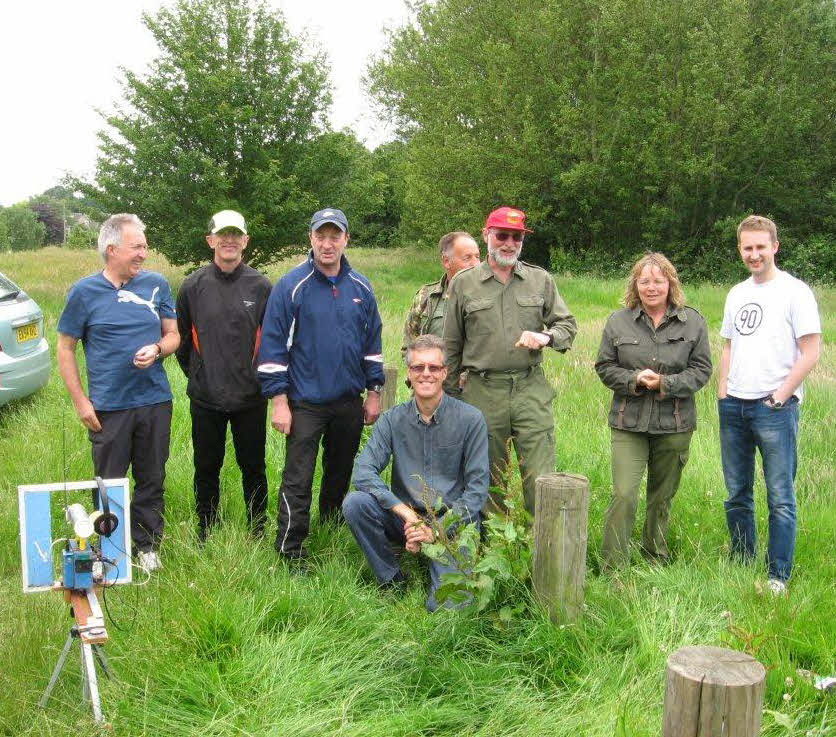 Not sure who got married or who is the best man?

Official photographer - Ian

.

So what had I got ready for our intrepid triffid hunters?

In addition to the usual gang I had a couple of people dropping in for a quick taste of DF as they travelled between the Ipswich Radio Rally and the Colchester Model Aircraft BBQ - Chris & Paul. Also Tim was bringing Richard (not to be confused with our 'Best Man' ) who would be handed over at Maxi A about an hour and a half later. This would make the ticket system somewhat unfair so I decided to add paper tickets just so they had something to collect.

Also two extra Micros were added, P & Q which were not on the main search/frequency list. This would enable me to stand near these stations teaching set operation without giving away the location of Txs which would count in the main event.

Top left J and Y both on the outside but opposite sides of two hawthorn thickets. I hoped that running between them our pretend commandos would go straight through while the more intelligent - sorry, less experienced beginners would walk around the outside. A similar scenario was constructed at L and X.

Both I and W made use of steep sided banks to give a lopsided radiation pattern for added amusement. Maxi A was the only station where you had to enter a thicket but I picked a location where, if you were good at mazes, you could actually get to the Tx without getting scratched. The placing of Z also followed the opposite side of the thicket theme. This was the main course containing all my easy Jokers'. This just left me two lone Minis H and K to play evil Joker tricks on our old hands. Nun's wood is a nature reserve but the smaller bit mid way between it and W may be small but it is truly evil. Thick and growing over a swamp. My trad DFer origins got the better of me and I spent about three hours one afternoon crawling about in this hell hole deciding where I could put two Minis where they would satisfy the most masochistic desires of the 'old hands'.
Driving home from the site I suddenly remembered that on the website I say "Anyone attending a Multi-DF should expect that they can complete an event without becoming unduly stung, scratched or ....... etc. Oh dear I must think again!

Plan B re 'What to do about K and H?

Understanding that trad DFers never want to follow a boring footpath, I positioned K so that from the majority of the site the bearing would go straight through the jungle. In reality you could just walk along the footpath around it. To maximise beneficial exercise it was just on the 1 Km limit from A. To enhance the illusion that it was in the jungle I did everything I could to get an above average signal out of K. Longer aerial, halfway up a bush to get maximum aerial height and counterpoise stretched to the maximum. I hoped from the main site it would appear much closer - in the jungle.

Now what can I do to make H 'evil' in a non scratchy sort of way? However, before I go on let's have a break, a few pictures perhaps .....
| | |
| --- | --- |
| | |
| | |
| --- | --- |
| The event didn't start until 1:30, but Chris and Paul said they would be passing by around 12.30 and would drop in for a quick taste of Multi-DF. I loaned them some old shirts to protect their exposed arms in case they got into a battle with a hawthorn bush. | Paul had ploughed through my website, knew all about tickets, posting boxes etc. and as an ex Marconi man was immediately up to speed. |
| | |
| --- | --- |
| Chris wasn't far behind, here going for W. That isn't a Micro aerial on a sky hook, my mouse slipped as I did the screen grab! | Paul consulting the frequency list to see what to so next. |
OK, break over, continuing from above - what was I going to do with H to make it evil but non scratchy? Power lines!

Experience has shown that Minis can be a real pain to find if they are located within 50m of a power line or close to a wire fence - see this example and Tim's experience where Tx L was not intentionally placed near a powerline, the site geometry just dictated it. On this event it would be deliberate - 'Oh yes' - rub of hands !

The area had power lines running all round it as result of the equipment used when it was a recycling/landfill site. The only footpath in the area (other than the one down to K) was the one running up to H from the bottom edge of the picture. The distance was a bit of an embarrassment, although well within 1 Km for crows, a large ciruit around a private field would be needed to get to it, I was very conscious that I had blasted Tim for his railways and rivers event where the 1Km rule was really streeeeeetched. However, I consoled myself with the thought that the power line running over H would feed signals to the main hunt area, competitors would never leave the main site - just oscillate between the various sections of line surrounding them. The only person I thought might get it would be a lone traveller who had Joker H and would drive directly to it. Did my plan work? The answer is below the results.

"Hang on MNE! Is this fair? If I get Joker H or K I could be stuffed!" Yep in Multi-DF speak you had an 'Evil Joker'.

One of the characteristics of Multi-DF where all Minis are similar is that only the very best DFers are ever likely to win. Trad DFs generate more different winners; most speeches include " We got lucky and stopped just in the right place at the right time ..... " At the end of last year we discussed handicapping but rejected it. Perhaps organisers may wish to bring in the luck factor to mix up the finish order a bit. For all experienced DFers, picking from the Joker bag, it should work out as fair over several events. For those with less experience taking a Jolly Joker offers some protection from bad luck. I shall be interested to hear what people think about this.

| | |
| --- | --- |
| Colin rushing passed Maxi A. | Trendy! |
| Tim delivering new Richard to me for some guidance. | The null is pointing straight at Z - one in the bag. |
| Having also found Q we call in at my car for a drink and another long sleeved shirt. Thus protected I leave Richard to do battle with Q and X. | Chris heading for Mini I. |
Colin - H was a long way!

Chris and Paul posting their tickets at A.



Having said they would just call in for a quick look, they ended up staying for about 2 1/2 hours, a positive result for Multi-DF.

Clearly Richard (2) was a Trad DFer in an earlier life. If the bearing points into a bush .

.. go straight through it until you come out on the path the other side.

Yours truly in my new supervisor's outfit - you have to create the right impression for your students.

Never mind the scratches - I found it!

Richard (1) has found his way into the Maxi A hawthorn maze.






Colin - H was a long way!


Dash and bother, I seem to have lost my corks ...


Peter - a very long way!!

Very well done to Richard (1) first time at the top and Rosie; steady you are treading on male egos here.

Our first time DFers all found 7 stations. In Richard (2)'s case this was all six Micros and the Maxi. Chris and Paul missed Micro Y but did manage to find Mini I. First ever use of a DF set and 7 stations found, can't be bad

Hi Roy,

Thanks for running the challenging event on Sunday, well at least especially for me.

Really managed to cock-up my performance with a return trip near to the start, only to confirm later that you were indeed to the far east of Colchester. Never heard the A station whilst passing thro' or even when on Clingoe Hill initially, so managed to lose about 3/4 hours of contest searching time.

Still, pleased enough to manage to find 6 eventually.

Congratulations also to a new winner in Richard.

Ian




Results

I don't believe it - having put H right under a power line 6 people found it!

2nd - I don't believe it. The 'Joker Bag' contained 3 of each Mini letters (H...L) Look at the JL column. In the

luck

of the draw three picked H

(lies, damn lies, statistics)

In this particular strategic battle Peter's "I always ignore what my Joker is" strategy came out top". - Yep if its evil, that's the way to play it! (Note the As in the Joker column were used for special purposes, first as a

Jolly Joker

and second to allow an experienced competitor - Tim - to bring a beginner to the operator. A was not included in the Joker draw.)

So H was nowhere near as evil as I thought, though some did have just a tiny bit of difficulty finding the Triffid which was placed conveniently by the side of the path. The first person there decided to do some Indian style tracking and found where I had gone behind the hedge 30 metres down the track and come back up beside the Triffid to place the Mini safely the other side of some severe brambles and nettles to keep it safe from the public. Fortunately my other evil Joker K did what it said on the tin ... leading all those jungle starved trad DFers through their own personal heaven ... swamp, flies, nettles, brambles, alligators ... well OK a just a slight exaggeration.

So a 'good time' was had by all - well except Ian, but I'll let him tell you about that (see opposite), I'm off to the 'fish and chip tea'....... Thanks to everyone for coming along, especially the 'first timers' I hope we may see you again one day.

See the Colchester League

here
OK Ladies and Gentlemen, please take your seats, its time for the 'Best Man' .


Speech, Speech!






Weak to fair signals were copied at the Start, with bearings indicating Brightlingsea as a distinct possibility. Second bearings were taken at Frating. Plots here said further south with a fair spread of Mini signals.

On to Flag Hill and it was by then 99% certain* that Roy had set up shop on the old Landfill site, now a Country park. (*99% certain usually means 100% wrong!)

We had been here before and it felt familiar. On the previous occasion warning signs for Adders were prominent....

Larby and I split up at the entrance wishing each other "Good Hunting!"

I had drawn the A station (Maxi) as my "Jolly Joker". Not quite as jolly as I had hoped since upon my arrival at the tx someone else had already nabbed the 40 points. Hmmm....

Cunning strategy was then deployed. Noting the strengths and directions of all remaining stations I decided to go to the far north west end to bag a Micro and its parent Mini as I was on "fresh legs" and nobody else appeared to be about.

Later, as I approached the footpath to K, I saw Philip returning from the fallow field and assuming he'd had success going that way I did the same thing and "cut the corner".

After 200 yards the field became overrun with 6 foot high nettles, bracken, brambles, fallen trees etc turning into swamp. The ground could not be seen and I fell quite a few times tripping on rabbit holes. The thicks became completely impenetrable. As I was pondering encounters with reptiles I was just 20 feet from the path I wanted, but I had to turn back. This episode must have wasted 15 - 20 minutes. However once back on the path things settled down and K was bagged - eventually.

A brisk walk along the river enabled more points to be collected at which point I met with Larby who said he only needed 3 more stations. I only then needed 2, but we both needed H.

I had an idea Mini H was somewhere right back near the road. Once there the bearing said East, meaning the tx was not anywhere near the others and way out on its own. Eventually it was located. Phew!

Thank you Roy for an excellent and challenging afternoon. Unaccustomed as I am at Winner's speeches I am very happy to have broken my "Multi DF" duck. (Please send Medal in the post)

Richard



My pleasure Richard, COD?